Global Cuisine Series at The Ritz-Carlton, Half Moon Bay
FEATURED CHEFS
Charles Olalia
August 26-27, 2017
Of Rice Bar in Los Angeles creating innovative Filipino recipes
Evan and Sarah Rich
September 23-24, 2017
Of celebrated Rich Table featured in Conde Nast Traveler's 3 Hours in San Francisco
Manish Tyagi
October 28-29, 2017
San Francisco's hottest new Modern Indian restaurant August 1 Five
Gerald Hirigoyen
November 18-19, 2017
James Beard nominee and Maître Cuisinier de France of Piperade, a West Coast Basque restaurant
William Werner
December 16-17, 2017
James Beard finalist for "Outstanding Baker" of Craftsman and Wolves, a contemporary patisserie
Previous Chefs!
Claudia Sandoval
May 20-21, 2017
Claudia Sandoval winner of Master Chef Season 6 and author of Claudia's Cocina: A Taste of Mexico
Telmo Faria
June 10-11, 2017
Of Uma Casa, named one of The Best New Restaurants to Try Now by San Francisco Magazine
Charles Phan
July 22-23, 2017
James Beard Award-winning The Slanted Door

Partner Sponsors
Moët & Chandon
Chef Works
Le Creuset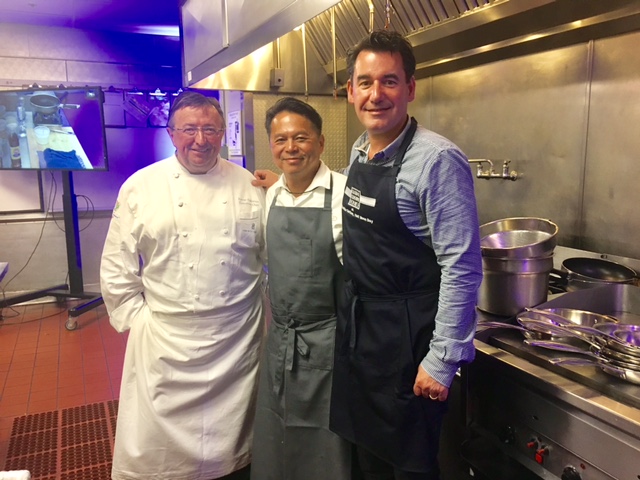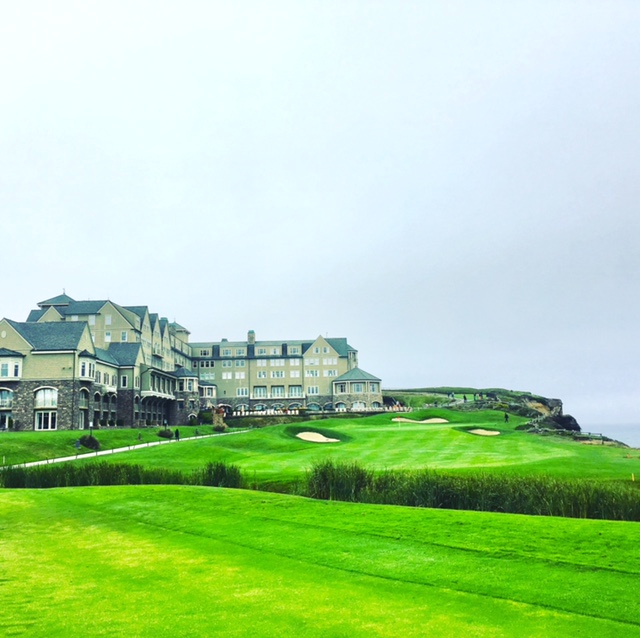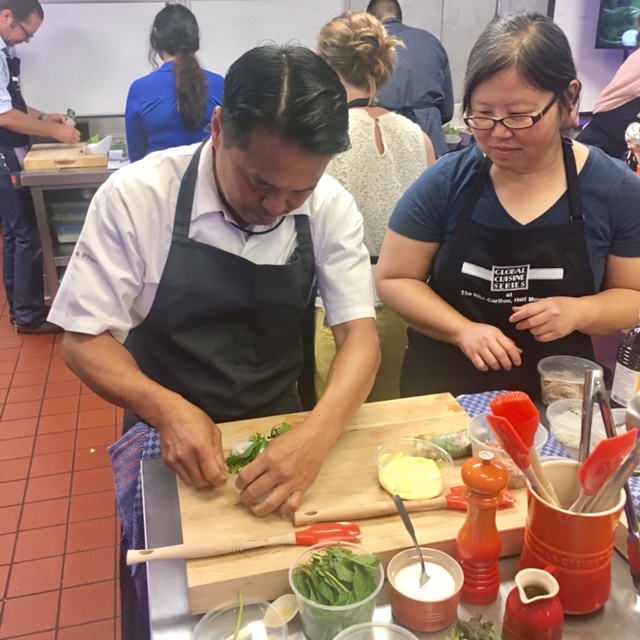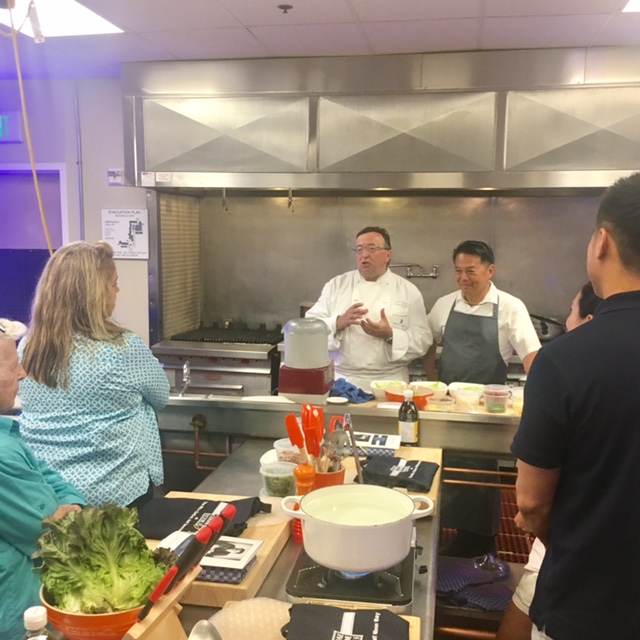 Check out my interviews with Xavier Salomon and Charles Phan on Soundcloud (linked).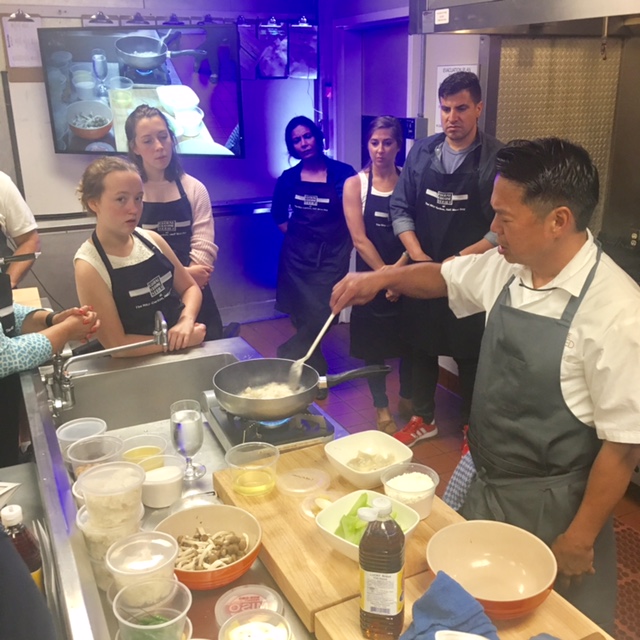 Xavier Salomon, Charles Phan and Joel Riddell inside the kitchen of The Ritz-Carlton, Half Moon Bay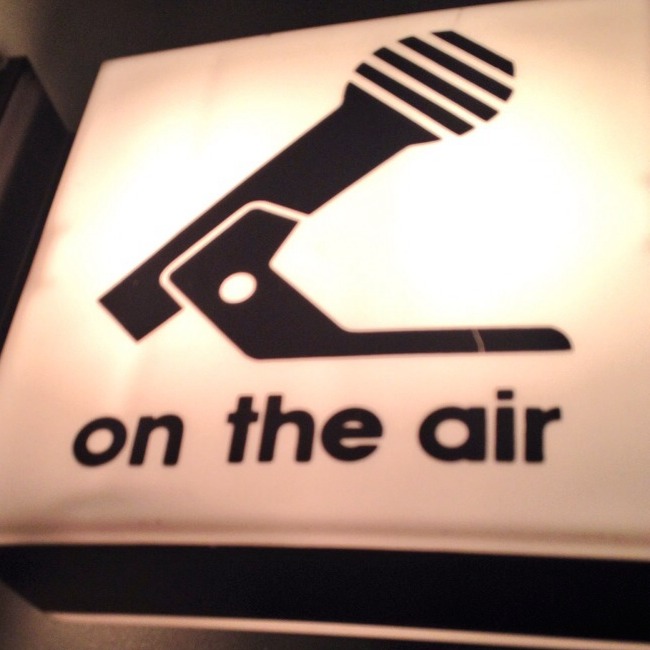 There are moments in life, when food, champagne, and laughter come together in perfect harmony. So was my stay and adventure with The Ritz-Carlton, Half Moon Bay. When I think of luxury, it is the comfort and serenity of a well-organized insider experience which first comes to mind. How many of us have had the opportunity to sneak behind the scenes and cook in a real professional kitchen? Even fewer of us can celebrate with world class chefs while they take us through an experience guaranteed to rev-up the palate and create laughter. To cook along side celebrated chefs like Charles Phan, Gerald Hirigoyen, and Sarah Rich is an incredible treat, and to do it in the company of one of our nations best chefs is an honor.
The Global Cuisine Series is the creation of The Ritz-Carlton, Half Moon Bay. Guests are welcomed for a weekend of luxury, and an intimate experience (approx 16 guests) for a hands on culinary class in the hotel kitchen and a sit-down lunch with the visiting chef to chat about their history and culinary inspirations.
I even left with a copy of Charles Phan's book!
The experiences happen once a month until December. A perfect pre-holiday getaway where you can re-charge and have a good time while cooking up a minor storm.
Book your experience, and don't forget to ask about the spa and golf; make a whole weekend out of it!
Hands-on demo with Chef Charles Phan of the Slanted Door in the kitchen of The Ritz-Carlton Half Moon Bay
Chef Charles Phan demonstrates in the Kitchen of The Ritz-Carlton Half Moon Bay