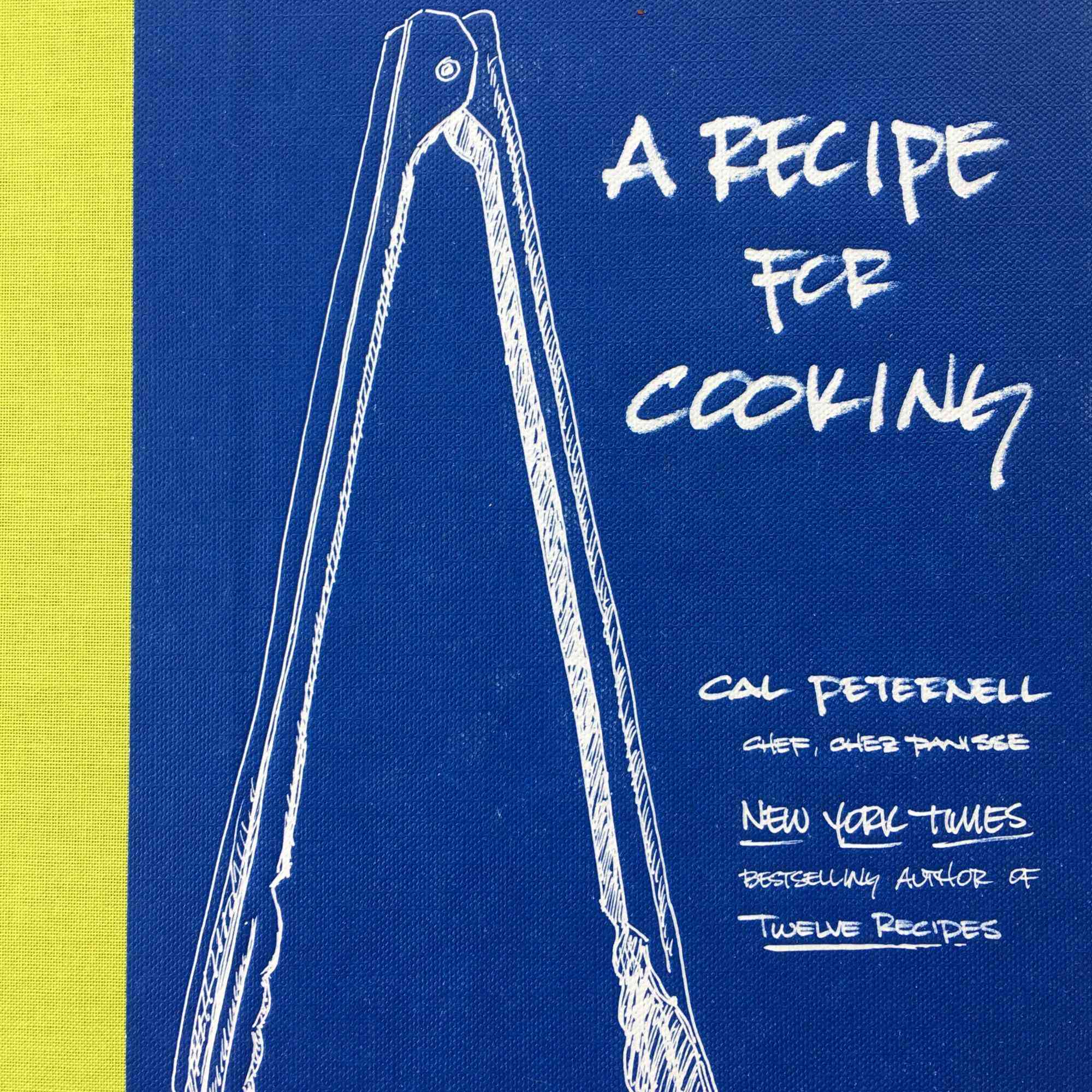 Cal Peternell, Chef author of "A Recipe for Cooking", Published by William Morrow
Cal is the chef at acclaimed restaurant Chez Panisse, gives you everything you need to cook for big get-togethers, holiday feasts,family occasions, and for a special dinner for two. Illustrated with lovely color photos and drawings, this cookbook offers a range of delicious, easy-to-master fare, from recipes such as Savory Tart with Onions, Olive, and Anchovies, Citrus Salad with Ginger, Cilantro, and Saffron-toasted Pistachios, Fish and Shellfish Soup, and Lasagna Bolognese. Each of Cal's recipes uses the freshest, most delectable ingredients of each season. Purchase a copy today from your favorite retailer
Chez Panisse Comes to Chez Vous
It is morning in Berkeley, the gleaming sun is drying the damp streets, and a line has formed at the Cheese Board Collective. Conversations of integers and interference mingle with sighs and scarves (hand-made and otherwise).
This is a place where people know one another, the barista makes change while smiling at the floppy hat-wearing four-year-old as a hip looking dude shuffles a dance to mystic only he hears.
The world is Berkeley: original and unabashedly proud of itself. Followers of fine food and solid restaurants love to visit and taste the new and true in this community. Stopping on San Pablo Avenue to enjoy paella at La Marcha or the din of Gather, close to the University gates. Perhaps just wondering about enjoying the scene, as there is much to discover.
This morning I was invited to enjoy a restaurant before opening. A place who's copper, glass and shingled threshold I have crossed before; the venerable Chez Panisse.
When asked about places to dine, we rattle off a list of where we are wowed by the chef, or surprised by ingredients. Chez Panisse is different. So many articles have been written about it, so many culinary legends enjoy and reminisce about their time in the kitchen; staging, or their internship (sometimes a fabrication). It is on the list of most because this restaurant has staying power beyond simple legend.
But how does such a place run? Not one big loud chef, hollering at or silencing a room full of minions, but groups talking about the day's fair, what will and has arrived from farmers, what the moment brings, and who they will shine for that evening.
For a moment, I had forayed into one of the great kitchens of our nation.
It is impressive, to know in the world full of personality-driven concept restaurants, and shining white coats, a place who's foundation began in the dirt of Berkeley continues to celebrate and be celebrated by those who matured in a city rooted in individuality.
At Chez Panisse, there is no "next", but a continuation of cuisine, in the spirit of the farmer, the cook, and the guest. Ever changing but not radically, a radical concept in a world often wincing from over polished decoration.
This day, I spent time with Cal Peternell, Chef of Chez Panisse and discussed his latest book "A Recipe for Cooking", published by William Morrow.
I enjoyed reading and discovering what I could bring into my kitchen. It is seasonal, the recipes are do-able, and the spirit is that of enjoyment. I truly hope you snag a copy of Cal's latest book, perhaps partnering it with a reservation at Chez Panisse. The book would make a marvelous gift for someone you love, or someone who you would love to have cook for you.
- Joel
A taste of "A Recipe for Cooking", published with permission from William Morrow.
Get your own copy of "A Recipe for Cooking", at your local fine book retailer –
check out www.ChezPanisse.com for the gift of combining this book with a gift certificate to Chez Panisse!
A Recipe for Cooking by Cal Peternell, Published by William Morrow.
GRILLED ASPARAGUS WITH HOMEMADE PANCETTA AND HAZELNUT SALSA
Some farmers sell what is called field-run produce, gorgeous stuff that comes straight from the field, but is unsorted, so you'll get, say, asparagus ranging in thickness from drinking-straw- size to thumb-size. Randomness can be inspirational, compelling a cook to focus on each stalk, figure how it should be cooked, and intuit when it's done. That said, it is a real pleasure to open a box of asparagus that has been sorted for the fattest, most succulent spears, the kind that need only simple boiling or can even be shaved to eat raw. For grilling, I like it all, fat and skinny. The fat ones are best peeled and boiled in salted water before hitting the grill, but the skinniest ones can, once the tough ends are snapped off, go straight on, oiled and salted, and, when cooked through, will have a pleasing, but not choking, char.
Makes 6 servings
1 shallot, finely diced
2 teaspoons red wine vinegar, or
1 teaspoon red wine vinegar and
1 teaspoon sherry vinegar
Freshly ground black pepper
Salt
Cooking oil, olive or vegetable
2 or 3 thick slices pancetta (about 6 ounces), cut across into little strips
2 tablespoons chopped parsley
1 garlic clove and 3 or 4 sage leaves, pounded with a pinch of salt
¼ cup hazelnuts, toasted and chopped
Good olive oil
1¼ pounds asparagus, tough ends snapped off and, if fat, lower 2/3 of stalks peeled, boiled in salted water until tender
Lemon
Leaves to garnish
Prepare a hot grill*
To make the salsa, combine the shallot, vinegar, pepper, and ¼ teaspoon salt and let marinate for 5 minutes. Meanwhile, heat a small skillet to medium and add ½ tablespoon cooking oil and the pancetta. Cook, stirring occasionally, until the pancetta is transparent and browning on the edges, or until crispy, if you prefer. Drain and set the pancetta aside. In a small bowl, mix the parsley, garlic and sage paste, hazelnuts, pancetta, marinated shallots, ¼ teaspoon salt, and 3 tablespoons olive oil. Stir, taste, adjust, and set aside while you grill the asparagus.
Coat the asparagus with cooking oil and season with salt. When the fire is ready and the grates are hot and clean, grill the asparagus until it is nicely colored and tender. Remove it from the grill, dress it with a squeeze of lemon and splash of olive oil, and arrange it on a warm platter. Spoon half of the salsa over the asparagus and pass the rest at the table.
* If you are not up to grilling, roast the asparagus in a 450°F oven instead.
PANCETTA
Curing pork belly for pancetta is simple and satisfying. True, pink curing salt must be found (at your butcher or online) and a way to hang the pancetta in your fridge rigged up (string and paper clips are what I use), but other than that, it really just takes time. The amounts given here are for curing 3 pounds of belly, but you could cure any amount (though maybe not too small a piece—at least 1½ pounds) using this ratio: the salt amount is 3 percent of the belly by weight; sugar is 0.33 percent. For the pink curing salt, I use half the amount recommended on the package.
Makes 2 nice paperback-book- size slabs
2 tablespoons plus 2 teaspoons salt
¼ teaspoon pink curing salt
1 teaspoon sugar
3 pounds skin-on pork belly, split into 2 squares
1 tablespoon fennel seeds
2 teaspoons coriander seeds
4 juniper berries
4 bay leaves, crumbled
Freshly ground black pepper
Crushed red pepper flakes
1 tablespoon finely chopped rosemary leaves
¼ teaspoon ground cinnamon
Combine both salts and the sugar and coat the pork belly with the mixture, patting it on to make it stick. Place the pancetta-to- be in a shallow dish, sprinkle any extra salt mixture on top, cover, and refrigerate for 12 days, turning the belly over every 2 days. The liquid drawn from the meat by the salt may collect in the dish and does not need to be drained off.
After 12 days, it's time to coat the pancetta with the spices and herbs and begin the drying process. Heat a small skillet to medium and add the fennel and coriander seeds. Toast the spices, shaking the skillet occasionally, until they start to hop around a little and smell good, about 30 seconds. Tip them into a clean spice mill or mortar, add the juniper and bay, and grind medium fine.
In a small bowl, combine the ground spices with the black and red pepper, rosemary, and cinnamon. Pat the belly pieces dry and coat them with the spices
and herbs. Using a skewer or thin-bladed knife, make a hole in a corner of each of the belly pieces and push a string through it for hanging. Hang the pancetta in the back of your refrigerator, where the temperature is more stable, for 3 weeks. (I hang them from the rod supporting the shelf in my fridge. It looks pretty authentic and Old World, dangling there in the back of the fridge as if in a curing cave, but if that doesn't work for you, pancetta can also be cured on a wire rack with the skin side down.)
At that point, you can scrape off the spices and herbs and cut slices as needed, trimming the hard skin off only the part you are cooking with—leave the rest on there to protect the meat from overdrying. Depending on how quickly you use the pancetta, you can just leave it hanging. It does get pretty hard after about 2 months, so if you won't use it all up by then, either freeze half, tightly wrapped, or give it away to a lucky, pork loving friend.